Japan Luxury Package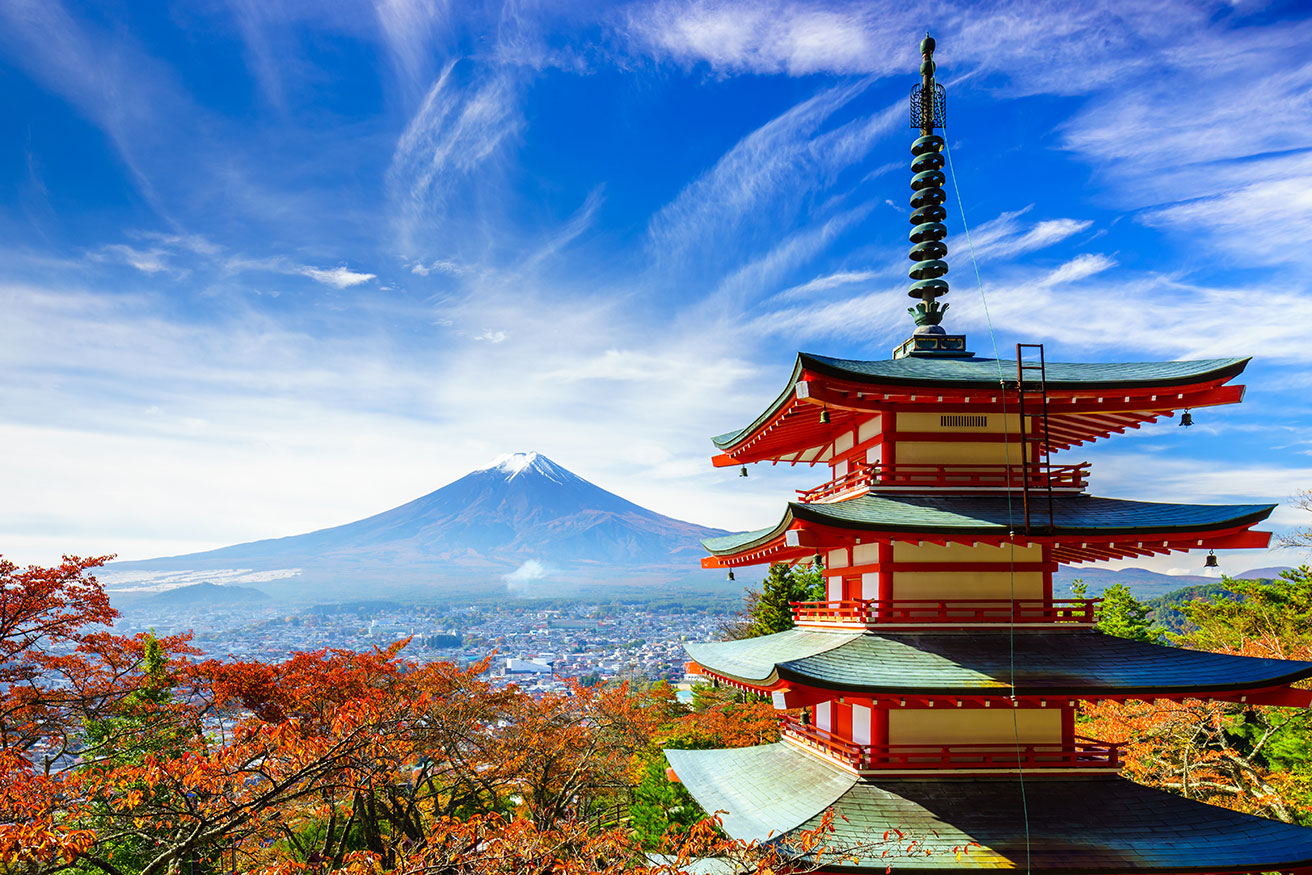 AT A GLANCE
The land of the rising sun
A unique combination of natural beauty and high technology
Home of 23 UNESCO World Heritage Sites
One of the safest countries in the world
Admire the breath-taking blooming cherry spring
Taste the authentic Japanese food
Attend one of the famous Grand Sumo Tournaments
Visit the most incredible Buddhist temples & Zen gardens
Visit Kyoto the spiritual centre of Zen Buddhism
Stay at a Ryokan the traditional Japanese accommodation
Climb Mountain Fuji one of the World's most-visited sacred sites
Be in a shopping paradise
ΑΤ LENGTH
Japan  is an island country in East Asia. It is situated in the northwest Pacific Ocean, and is bordered on the west by the Sea of Japan, while extending from the Sea of Okhotsk in the north toward the East China Sea, Philippine Sea, and Taiwan in the south. Japan is the eleventh most populous country in the world, as well as one of the most densely populated and urbanized. Japan is a highly developed country and its economy is the third-largest in the world. It is also renowned as "the land of the rising sun" because from China it appears that the sun rises from the direction of Japan. Japanese people called it "Nippon" which literally means "source of the sun".
The climate of this country varies from place to place, most areas in Japan have a rainy season from mid–June to mid-August, hurricanes are also frequent from August to October. The symbol of the dragon represents the god of the water and it is the main symbol of the Japanese mythology, moreover is the luckiest zodiac. The "geishas" who from the tender age of ten are been taught how to keep the patrons of the "tea house'' company, represent the ideal of the cultured woman with subtle manners and irresistible charm. The citizens of this country will surprise you with their love for order and discipline. This dream destination combines incredible harmoniously, the tradition with the modern and futuristic element. Skyscrapers springs up through ancient sanctuaries and castles. It is definitely a country which is worth to get it know !
Read more...
PRICING
From € 5,900, per person in double occupancy room - Duration 15 days / 14 nights
Seasonality March to May & September to November, price is indicated for the middle of April.
What's included:
Flight tickets  to / from Tokyo in Business class
9 nights accommodation in a 5* Hotel in Tokyo with breakfast
4 nights accommodation in a 5* Hotel in Osaka
Round-trip private transfer from each airport to your hotel
Tickets with Super Speed Bullet Train from / to Osaka from / to Tokyo
Tokyo Private City tour
Osaka Private City tour

Restaurant & Experience bookings by your Private Travel Concierge
Read more
DAILY ITINERARY
Day One

ATHENS – ISTANBULL

Departure from Athens to Tokyo via Istanbul. Overnight at the flight.

Day Two

ISTANBULL – TOKYO

Arrival in Tokyo, a private transfer will take you to your hotel (approximately 20 min) for your check in. Settle in your room and rest, you can enjoy a nice dinner at your hotel's restaurant.

Day Three

TOKYO CITY

We suggest you have a free day and have a casual walk around Tokyo, in order to have a first touch with the city and have a relax day after your long trip the previous day. Enjoy your walk at this postmodern and at the same time traditional city where among the impressive steel architectural creations you will still find some traditional corners full of mystery and romance. At spring, you can also admire the blossom of the cherry trees!​

Day Four

Explore the best of Tokyo on this one day, fully customized and private tour. You will be introduced to both modern and traditional aspects of this dynamic Japanese capital. The most popular, must-see attractions on this tour will be Asakusa, Imperial Palace, Shinjuku Gyoen National Garden, Tsukiji Fish Market, Meiji Jingu Shrine, Akihabara, Hama Rikyu Gardens, Harajuku, Takeshita Street, Nezu, and Shinjuku Golden Gai. If you are a more adventurous type, we alternative suggest you have this city tour on a bike !

Day Five

KAMAKURA

Today is the day to visit Kamakura, which is only one hour away from Tokyo. We suggest you have a full day private trip and meet the Home of the Samurai and understand the great cultural importance to Japan. Kamakura is a popular domestic tourist destination in Japan as a coastal city with a high number of seasonal festivals, as well as Ancient Buddhist and Shinto Shrines and Temples.

Day Six

MOUNTAIN FUJI

On this day we suggest you  have a full day sightseeing trip to discover Mountain Fuji, one of the world's most famous mountains and a UNESCO World Heritage Site.​ Mount Fuji (3776m), the highest mountain in Japan, is a sacred mountain and one of the most iconic symbols of this fascinating country. Explore the Kawaguchi Lake, and Oshino Hakkai nearby Mountain Fuji, and see why everyone comes here when they visit Japan. Over this great mountain you will enjoy panoramic views, you will also admire the magnificent, serene lake around the area of Mount Fuji. Next stop of this tour is Oshino Hakkai, a traditional Japanese style village. Then Kitaguchi Hongu Fuji Sengen Jinja Shrine, which is one of the most important shrine complex of the area.​

Day Seven

Our suggestion for this day is to have a day trip at the lush mountain town of Nikko.​ It is less than two hours away from Tokyo and it is one of the most stunning places you can visit near Tokyo for the autumn colours. If you like hiking, Nikko National Park is a great opportunity for a gateway. Nikko National Park is a complete package, providing spiritual experiences, adrenaline-pumping adventure, serene trail walks and cultural pursuits.​

Day Eight

Enjoy your breakfast and get ready for a wonderful walk around Tokyo! We suggest you have the Yanaka Walking Tour and explore this district. During this walking tour you will discover the historic side of Tokyo's Edo period, you will wonder around the charming streets of this well-preserved historic district, visit ancient temples and learn additional details about Japanese history and local culture.​

Day Nine

TOKYO IMPERIAL PALACE TOUR

Don't leave from Tokyo without spending a day visiting Imperial Palace! It is consisted with the history of Japan but also with natural beauty around it, which is magnificent. Moreover, you will explore the East Garden situated to the east of the Imperial Palace. From Kokyo Gaien, the large plaza in front of the Imperial Palace, you can view the Nijubashi, two bridges that form an entrance to the inner palace grounds. The stone bridge in front is called Meganebashi (Eyeglass Bridge). The bridge in the back was formerly a wooden bridge with two levels, from which the name Nijubashi (Double Bridge) is derived.

Day Ten

TOKYO – OSAKA

Enjoy your breakfast and get ready to meet Osaka! The super speed bullet train will transfer you from Tokyo to Osaka in less than 2,5 hours. The tickets are included in your package. Choose the time you prefer and get easily to Osaka. Settle in your hotel and rest. Then get ready to your private customized guided tour around Osaka. This is a modern city with a rich history. You will explore Osaka's foundation, then its religion, political and cultural history. At this tour you will see Sumiyoshi Taisha Shrine, Shitenno-ji Temple Homotsukan, Osaka Castle and Shinsekai.​

Day Eleven

DAY TOUR HIROSIMA & MIYAJIMA ISLAND

For this day we suggest you have a full day tour at Hiroshima & Miyajima. You will have the opportunity to see the historical highlights of Hiroshima on a comprehensive full-day tour from Osaka. You will visit the magnificent Hiroshima Peace Memorial Park and Museum, in which intriguing exhibitions speak eloquently of the atomic bomb dropped on the city in 1945. Fully immerse yourself in Japan's fascinating culture during this enriching excursion. Then you will get on board and go to idyllic Miyajima island which is the island of the Gods. The Great Torii Itsukushima is a free-standing gate in the middle of the sea, part of the Itsukushima Shrine. It is a Shinto Shrine considered to be the boundary between the spirits and human world. The best part of this shrine is that it looks as if it is floating in water. Make sure when visiting Miyajima to go during higher tide, to view the Great Torii while it's surrounded by water.​

Day Twelve

This is the perfect day to meet Kyoto! We totally suggest you have this day tour with a private transfer or even by bus as the distance is less than 15 minutes. You will have the opportunity to discover the UNESCO-listed temples and shrines of Kyoto, walk among thousands of bright-red torii gates at Fushimi Inari Taisha Shrine and admire the views from Kiyomizu-dera and the elegant architecture of Kinkaku-Ji. You will visit Fushimi Inari-Taisha Shrine, Kinkaku-Ji Temple, Kiyomizu-dera Temple and world-renowned bamboo grove area of Arashiyama.​

Day Thirteen

OSAKA – NARA

We recommend you visit the holy city of Nara. This city is famous for its many shrines and temples, many of which date back to the 8th century when Nara was Japan's first permanent capital. Eight locations are UNESCO World Heritage Sites. It is also famous for its hundreds of deer roaming around a large park within the city, beautiful Japanese zen gardens and ancient shrines that date back to when Nara was Japan's first capital city. Those are the main reasons why Nara shouldn't be missed when visiting Japan.​

Day Fourteen

OSAKA – TOKYO

Return to Tokyo with super speed bullet train, the tickets are included in your package. Check in at your hotel and rest. Stroll around the streets of Tokyo for last photos or you may like to buy some souvenirs like folding–fans with traditional paintings on them, chopsticks made of bamboo, plastic or ceramics. Japan has a long and rich history of the arts, quality, beauty and variety of it. Different regions of Japan feature unique distinct styles of ceramics, and with several artists having made their home in the capital city, there won't be any lack of pieces you can bring back with you.​

Day Fifteen

DEPARTURE

It is time to return home. A private transfer will get you to Tokyo airport for your flight back to Athens via Istanbul . Arrival in Greece full of memories, images of an exotic, mysterious place and the sense of Japan's ancient and special culture!
Read more