Tinos Deluxe Package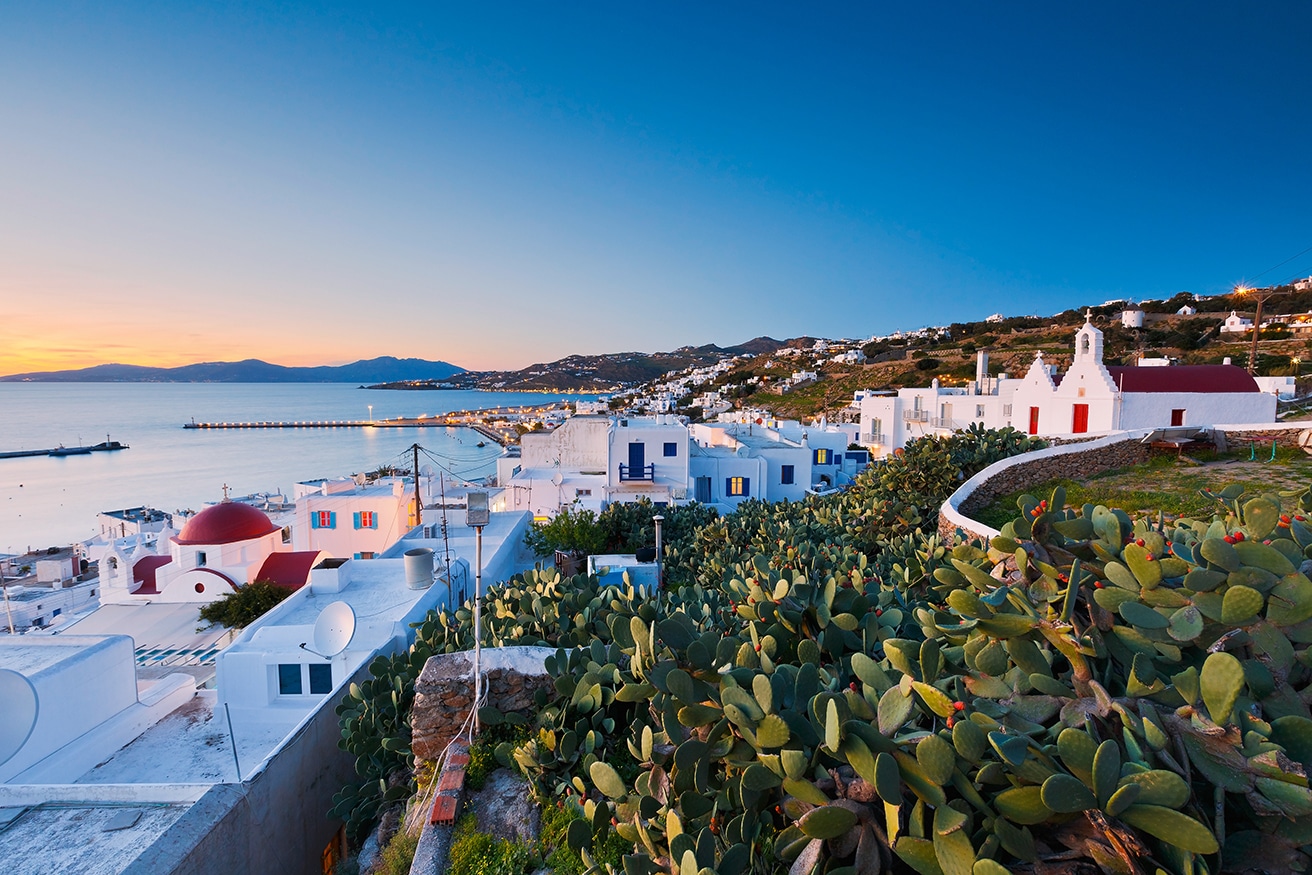 AT A GLANCE
Wander through the picturesque alleys of Pyrgos village

​

Visit Panormos fisherman village with the natural seaport

​

Explore the Castle of Tinos, Exombourgo

​

Experience the authentic cuisine of Tinos

​

Discover the most beautiful beaches of Tinos

 

​

Celebrate the summer to the fullest
ΑΤ LENGTH
Tinos is a Greek island situated in the Aegean Sea, located in the Cyclades archipelago. Tinos has mostly Greek local tourism, so you will be able to live like a local and feel the warmth of hospitality! Tinos is famous for the Greek Orthodox church ''Virgin Mary'' situated at the port, where thousand of believers visit the miraculous church. However, we should mention that over the past years it has become a high quality destination with upgraded services and incoming visitors.  The island boasts amazing beaches with crystal blue waters and unique landscapes, while the main characteristic of the island are the many villages, each full of life!
In Tinos town, you can visit the Archaeological Museum and admire its collection of sculptures found in the Sanctuary of Poseidon and Amphitrite, located North of Hora. The miraculous island Tinos also has its own founded Tinos Surf Lessons, on the northern beach of Kolymvithres, offering surfing lessons and rentals. The best time to go to Tinos for surf is from August to December. Tinos offers a wide variety of activities to do such as hiking, wine tasting and village tours. Last but not least, the gastronomy of Tinos is well known because the island is very fertile and the local products make the dishes irresistible!
​
Read more...
PRICING
From € 825, per person in double occupancy room - Duration 8 days / 7 nights
Price is indicated for the season May & September.
What's included:
Boat Tickets with

Highspeed Ferry o

n Business Class

7 

nights

accommodation in 4* hotel in Tinos with breakfast

​

Private Transfer from / to your hotel from/to the Port

​

​

Private Premium 

Wine-Tasting Tour in Tinos

​
Read more
DAILY ITINERARY
Day 1

ATHENS – TINOS ISLAND

Departure from Rafina port with the fast catamaran ferry that arrives to Tinos in approximately 2 hours. Arrival at 09:35 a.m. and your private transfer will take you to your hotel. Check in at your hotel. In the evening you may want to have a walk and explore the area for a while. For dinner we suggest ''Kalopsia'' restaurant by the beach, close to the port of Tinos which has speechless decoration and high rated cuisine! 

Day 2

TINOS – KOLYMVITHRES - NIGHT FUN

It is time to enjoy the waves by Kolymvithres beach! You should visit Tinos Surf Lessons where you can experience surfing with an instructor, meet other surfers or have SUP lessons. The beach is especially for surfers and the owner of Tinos Surf Lessons has created a beach life scenery to put you in the Hawaiian mood! Meanwhile, you can have a break at the beach bar by Kolymvithres beach, which offers snacks and cool drinks and even have some rest at the beach bar's sunbeds shaped like a mushroom! Another option is to have lunch at ''Drakonisi'' Greek tavern, which is 1,5 km away from the surf spot and has amazing food.

After a long day of surfing, we recommend to return to your hotel and relax. It's Saturday night and you should definitely have some drinks at ''Koursaros'' bar in the center of Tinos! The environment has cosmopolitan vibes, and the cocktails are high rated by the customers!

Day 3

TINOS – PANORMOS BAY - DINNER​

Start your day with a rich breakfast at your hotel. Wander at the picturesque alleys of Pyrgos, one of the largest villages on Tinos Island. This year-round busy town is home to the Art School for Marble Sculpture, the Marble Craft Museum, as well as the Yannoulis Chalepas Museum and the Museum of artists from Panormos, based around the central square.

Continue your day to Panormos bay (3km away from Kolymvithres). Panormos is part of Pyrgos village and a natural seaport. The fishing village of Panormos is one of the most popular destinations for visitors to Tinos, with great historical significance for the merchant shipping and the pirate invasions. Don't forget to visit the incredible Kavaroulko Cave, the Stalactite Cave of Panormos bay, which was discovered in 1859 and boasts four rooms with two entrances. The flow of drops is constant, and the cave is suitable for exploration!​

For lunch we suggest ''Maistros'' fish restaurant by the beach, with exceptional dishes and beautiful environment. You may want to continue your afternoon by the peaceful Agia Thalassa beach (0.8 km from Panormos). For dinner we totally suggest ''Pranzo'' restaurant in Chora (centre of Tinos), with Italian cuisine and cozy ambient!

Day 4

TINOS – FULL DAY JEEP TOUR - DINNER​

You can experience this day to the fullest with a Full Day Jeep Tour! The tour starts at 09:30 with private transfer from/to your hotel and an experienced guide. Depart from the Old Port of Tinos Town and drive through Agios Ioannis, Lignaftia to the lighthouse of Leivada. Then, stop at Exombourgo Mountain for some panoramic views. You drive through a unique landscape of Falatados and Kakia Skala, full of big rounded granite rocks, to reach Kolymvithra Bay for your first swimming stop. Then, you will enjoy traditional Tinian tastes at your lunch at Aetofolia Village, before you take the road to Malli and Koumelas. Be prepared to fall in love with these two beautiful fishermen's villages at the west side of the island. Your final stop will be at Vathi for an evening swimming at this small and quiet beach.

Enjoy a dinner in "Ntinos" restaurant in Kardiani, one of the best spots to experience the Tinian hospitality and Mediterranean cuisine with astonishing sea view, before you take the road to return to your hotel.

Day 5

TINOS – SAILING TOUR - NIGHT FUN

For today we totally recommend a private Tinos Sailing Tour! This tour starts at 10:00am and lasts 7 hours with skipper and guide included. You pass by the western cape of Tinos, crossing the bay of Agios Romanos, Kantani beach (swimming stop), Agios Petros, Ysternia bay and the settlements of Malli and Koumelas! Swim in the crystal clear waters of Mali and Koumelas overlooking the neighbouring Andros and the island with the lighthouse. Delicious traditional dishes and local products are offered on board and according to your preferences. It is possible to stop for lunch at one of the famous seaside restaurants in Ysternia bay or Giannaki bay. After this amazing tour, you should return to your hotel and rest. Enjoy your night at Chora and have a walk by the popular bars and clubs of the island. Have fun in the graphic alleys of Chora!​

Day 6

TINOS – AGIOS FOKAS BEACH​

Enjoy your day on the beach! Very close to Tinos Town there is the clear-watered and soft-sanded beach of Agios Fokas. Enjoy the sea and the sun at "Sundara Beach Bar & Lounge" with deep house music. Then, have some comfort food in "Nero" all-day bar-restaurant next to Agios Fokas beach. After midday we recommend you to learn about Tinos' wine-making, and we can arrange you a visit to the best of Tinos' wineries. A tour of vineyards of Falatados, Clos Stegasta, with the preserved ancient presses, is a journey through the history of winemaking on the island, until today. The winemaking team will guide you step by step through the tasting of the top wines Clos Stegasta, that represent the historic winery and also the island itself.​

Day 7

TINOS – BEACH DAY​

Another day, another Tinos' beach to fall in love with. On Southeast, Agios Ioannis with its famous beach bar Lala Louza is one of the most famous beaches in area Porto, with view of Rhenia island and Mykonos. Another option is the secluded and unorganised Pachia Ammos beach, the best beach in Tinos as told many travellers. For your last night in Tinos, we suggest you to watch the sunset from the veranda of "OmmA Tinos" in Exombourgo, enjoying your cocktail and Tinian cuisine with a more modern & elegant perspective.​

Day 8

TINOS – ATHENS

You begin your day with breakfast at your hotel. Your private transfer will take you to Tinos Port where you will take your ferry. Departure at 12.55 a.m. with the "FLYINGCAT 3", filled with amazing memories and feelings!​
Read more