Santorini – Paros – Athens
For the beach Lovers, a must seen list of Santorini beaches
Red beach is a 20-minute drive south of Fira, and the walk down to the beach can be steep for some. The pebbly sand here is red and the backdrop is stunning. There's not a lot here besides the unique scenery.
Vlichada Beach
Vlichada beach is one of the most unusual beaches in Santorini, with a long stretch of coarse black sand with white, moon-like, volcanic cliffs looming behind, shaped over millennia by the wind, sand, and sea. This is a semi-organized beach, with umbrella and sunbed rentals and dotted with a few tavernas and bars close to the beach.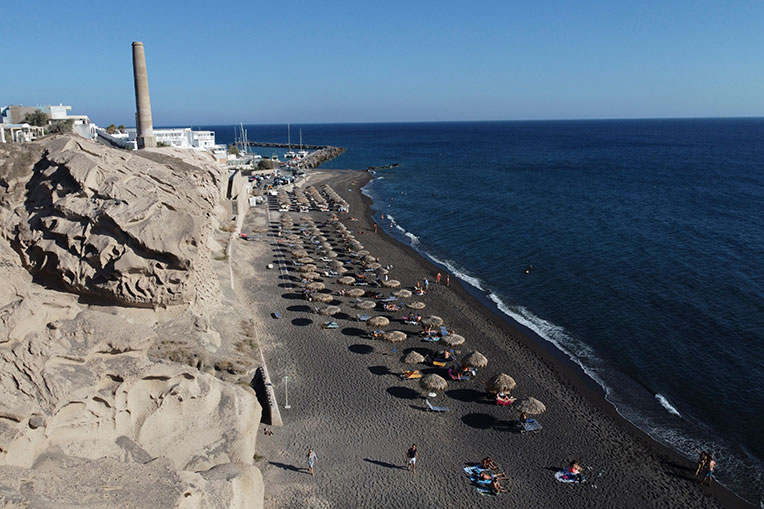 Kamari beach
Kamari beach is the busiest, most family-friendly beach. Kamari beach is pebbly, so the water is extraordinarily clear. There are several affordable, all-ages beach clubs along the main path offering beach chairs and umbrellas. It's the closest of any of the beach towns to Fira and is separated from Perissa beach by a hill called Mesa Vouno, but the two beaches are connected several times a day by water taxi.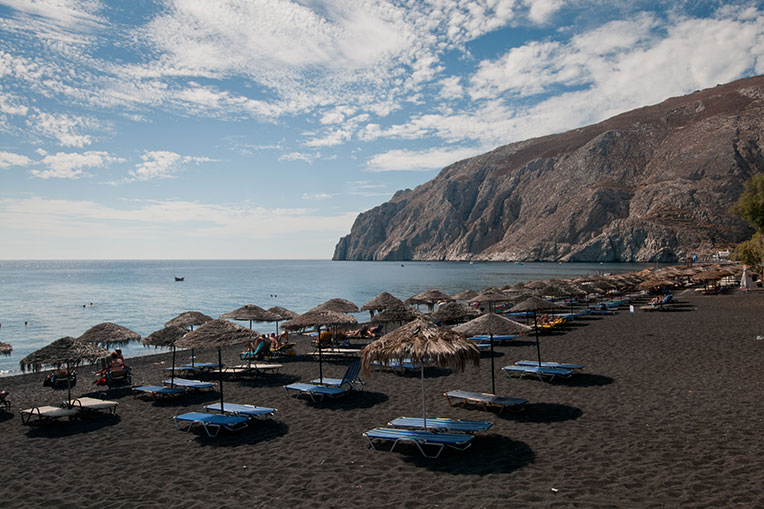 Perissa and Perivolos beaches
Perissa and Perivolos beaches are essentially one very long beach, with Perissa at the north end turning into Perivolos to the south. Perissa is separated from Kamari by Mesa Vouno, as mentioned above, but connected by water taxi and a hiking trail. The beach at Perissa is a pebbly, sandy mix, which gets sandier farther south. This is a mostly family-friendly beach but with a little more of a party vibe at the beach clubs here. Moving south along Perissa for a kilometre and a half, the beach changes its name to Perivolos, which is the most upscale beach in Santorini with a good number of luxury hotels, high-end beach clubs, and fine dining restaurants.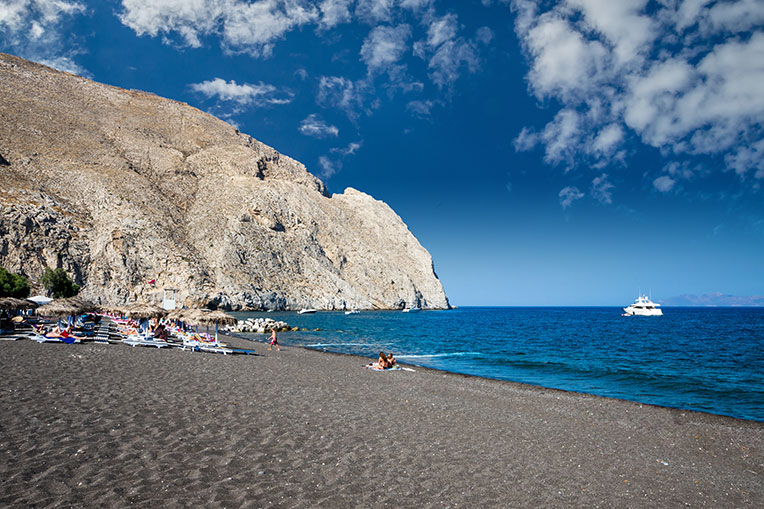 For the beach Lovers, a must seen list of Paros beaches
Kolymbithres is perhaps the most impressive and most must-seen beach in Paros because of its interesting geology. The granite rock formations are millions of years old and have created a unique scenery. The shape of the bay creates a natural division into two main beach areas, both served by its own beach club, with several, smaller patches of sandy beach in between the rocks. Two water sports centres flank the beach, offering a variety of activities including windsurfing, mini sailboats, kayaks, and SUPs.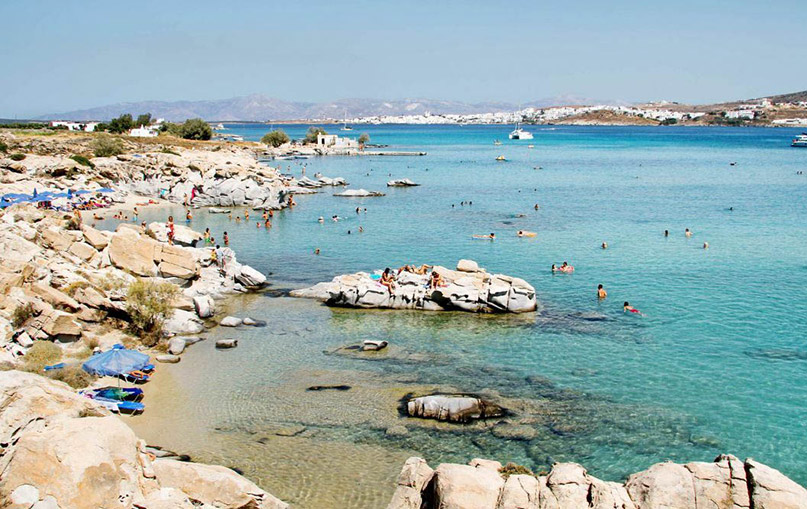 Golden Beach
Golden Beach, located south of Parikia. Golden beach is been named one of the best beaches of Paros because of the long golden sandy coast extending for 700 metres and the crystal-clear water. A Family friendly beach with easy access to great restaurants, beach clubs, and hotels. This beach is home also for  extreme water sports because of the wind, particularly in July and August. Becoming an international destination for windsurfing and kitesurfing;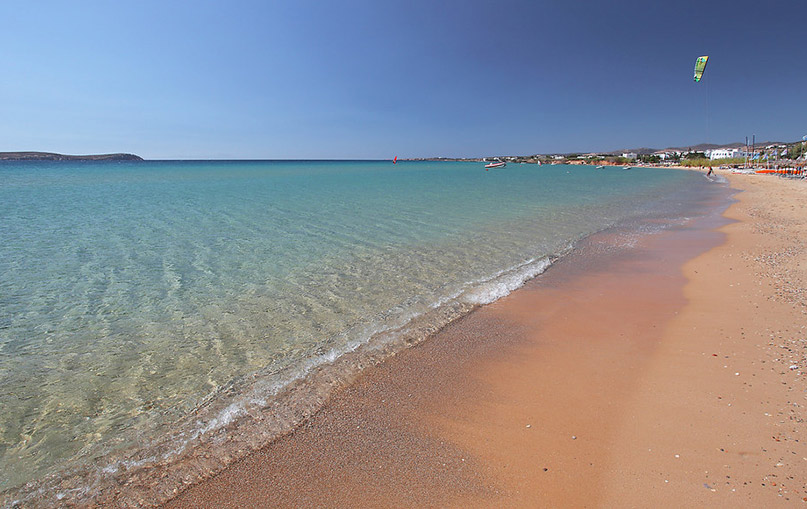 Kalogeros Beach
A hidden gem of Paros, Kalogeros is known for its healing mud which contain clay, visitors slather on for an all-natural spa treatment. This mud It's known for its therapeutically abilities for skin conditions. This sand and pebble beach sits in a south-facing cove at the base of a rocky cliff, protected from the winds on the island's east coast. The beach is secluded with no infrastructure whatsoever. Therefore, if you decide to visit it, you should have all the necessary things with you, like water and snacks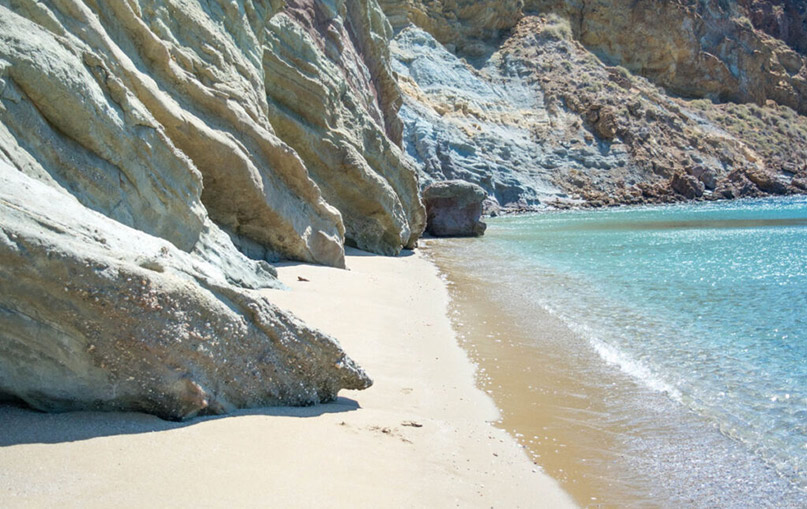 Santa Maria Beach
Santa Maria Paros is on the northeast coast of the island of Paros, near the town of Naoussa. It has been one of the most popular beaches in  Paros, with crystal emerald waters, however due to its size it never seems crowded. Great for families / couples and group of friends, with a long coastline divided into two soft, golden sandy beaches which offer a beautiful views of the island of Naxos.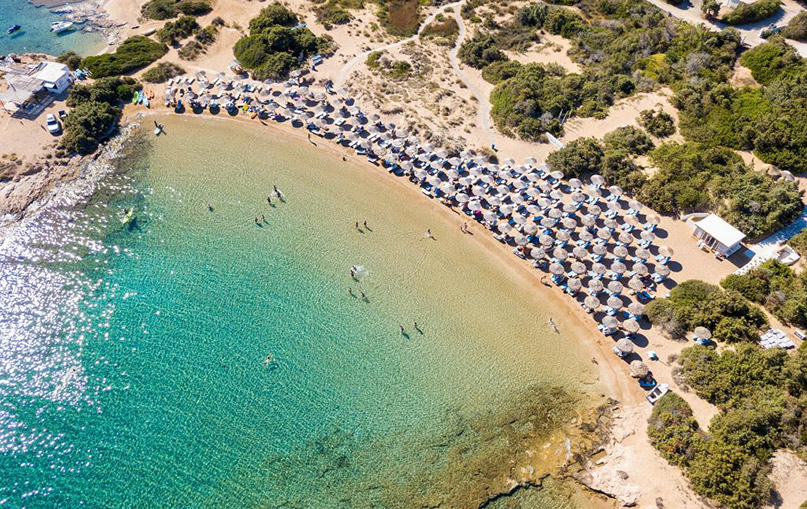 Semi-Private Caldera Classic Cruise
This sunset cruise around the Caldera is one thing one should not miss. With this semi private cruise onboard of a traditional sail yacht, you will have both in the most enjoyable way. Admire the unique Red and the White Beach, dive in the crystal-clear waters of the Black Mountain and try some snorkelling, admire one of the largest volcanic Calderas in the world from the sea, discover the magic of geothermal energy swimming in the Santorini Hot Springs and enjoy the sun and the crystal-clear waters of Thirassia island. The cruise package includes transportation from/to hotel with an A/C minibus/van, welcome drink, dinner and snorkeling gear.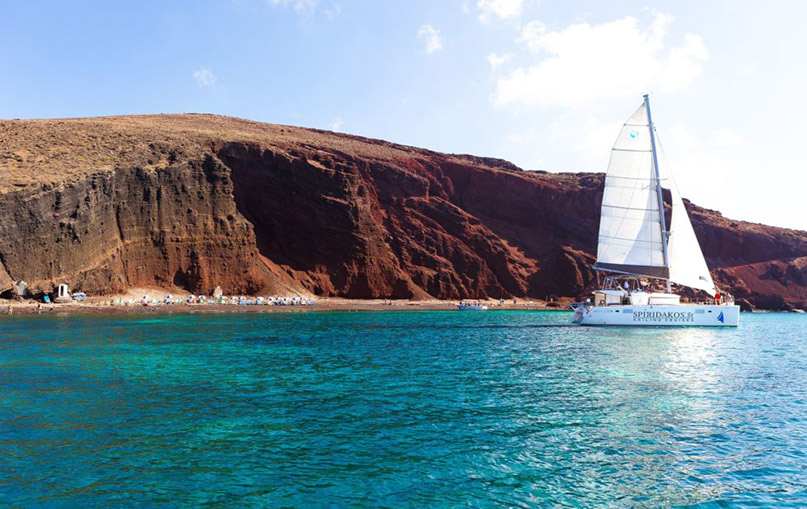 Historic Heritage Tour at Akrotiri
Tour through Akrotiri, a settlement on Santorini that was covered in ash in 1500 BC, on a 2-hour guided tour. During your tour, follow your guide through the city to see how it was organized. Hear about the tragic events that buried the city after a volcanic eruption and learn why this contributed to it being well-preserved. Discover the way people lived 4,000 years ago as you stroll past private houses and public buildings and observe signs of a sophisticated infrastructure. You will also see some of the famous artwork, including pottery, furniture, and frescoes from the time, and find out about the other works stored at a nearby museum.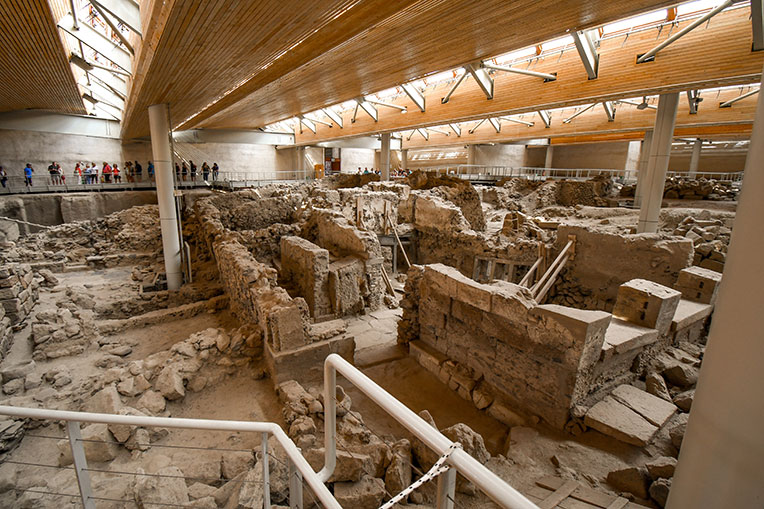 Wine Tasting Tour
Guests will be picked up in a comfortable private car. First stop the caldera and  vineyards for a brief explanation of  how things are done here, from pruning to harvest.  With this step you will undestand just how miraculous these wines are. We will visit three distinctive, charming but different,  award winning wineries where you will  taste and discover the amazing wines pairing with local meze, and get to know the different styles and labels.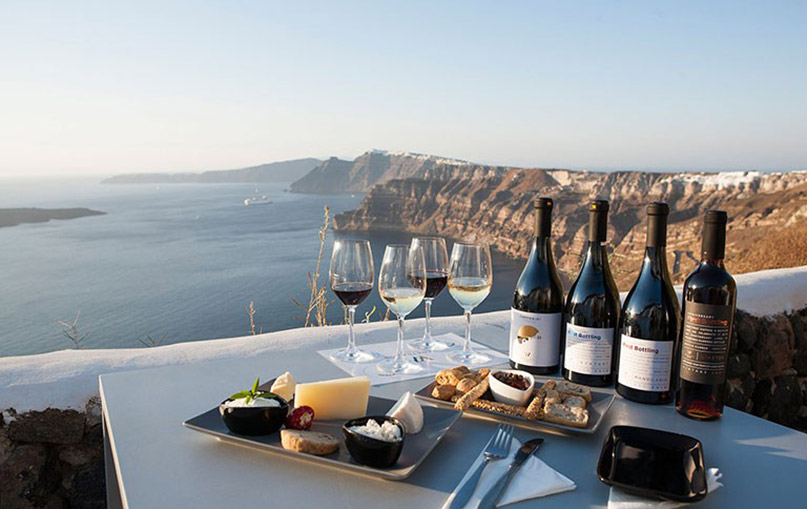 Walking Tour of Oia
Your local guide will take you on a journey back in time, through a winding path with stunning panoramic views of Santorini and the deep blue horizon. Follow the footsteps of the affluent merchants of the island, feel the energy of the volcanic caldera, and explore the backroads of Oia. Discover and experience breathtaking villages through the eyes of a local. The tour includes complimentary round trip transfers, English speaking experienced local walking guide, wine tasting session of 5 unique award winning wines.
Boat tour Paros - Antiparos
Explore Paros and Antiparos beauty by the sea. First stop of our tour to the pirate caves in the south of Paros. A magnificent cave were its said that the pirates used to hide there. Nice place for a morning swim and a cliff diving. Sail to Antiparos island with second stop at the beautiful Sostis beach, a jewel with green waters is a small beach on the southernmost part of It strikes with its extremely transparent water in light and dark blue.
Third stop at the wonderful sea caves in that of Antiparos. Beautiful white cliffs overlooking the turquoise sea. The Cave of Antiparos is among the most beautiful and most significant in the world; this because, in addition to being an enchanting natural site worth seeing, it is inextricably linked to the history of the area and generates great archaeological interest. Fourth stop in the wild Despotiko. Here you will be served a lavish lunch based on specialties of Greek cuisine. Fifth stop in the enchanting blue lagoon of Panteronisi, one of the best spots in all the Cyclades. Fresh fruit and local liqueurs will be offered here. Sixth and last stop on Kampana island, a small island between Paros and Antiparos with a delightful little church. Great snorkelling spot.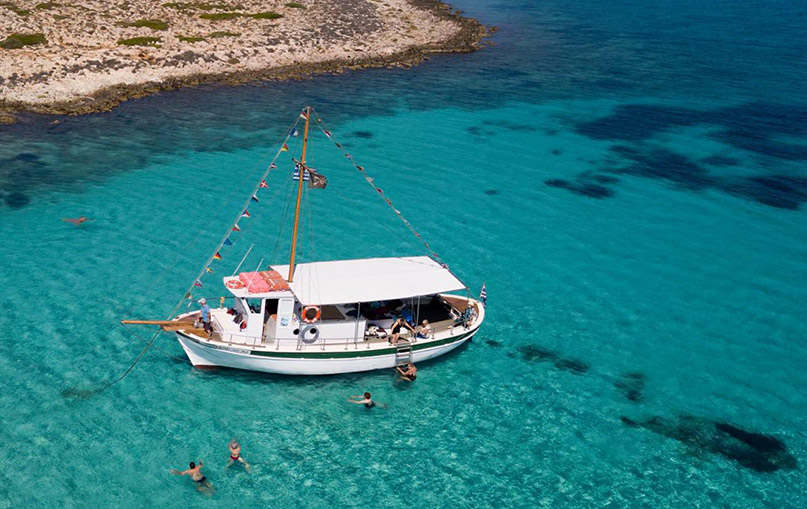 Athens Top Attractions & Mythology Tour
Explore the world-famous Acropolis of Athens and be inspired by the Greek mythology and stories of love, revenge, infidelity, and passion. See from up-close and learn everything about marvels like the Parthenon. Enjoy secret spots on Pnyx Hill with panoramic views of the city. Local, licensed guides small-group tour, convenient and fast access to all monuments.