New Zealand Luxury Package
PRIVATE AUCKLAND CITY TOUR FOR A SMALL GROUP OF 3 TRAVELLERS IN A LUXURY CAR
Take in the top attractions of New Zealand's largest city on this private tour (5-hour) of Auckland. Prepare to see the very best sights of Tamaki Makaurau (Auckland). Explore some of Auckland's amazing ancient volcanoes, beautiful beaches (Mission Bay, Shoal Bay), landscapes (One Tree Hill) and the historic Devonport.
Also admire the amazing views of Maungawhau (Mt Eden, one of the most prominent volcanic cones in the region) and Takarunga (Mt Victoria), and Archilles point, for spectacular views of downtown Auckland, Waiheke and Rangitoto Islands. You will also have the chance to see some of Auckland's icons, the beautiful architecture of Auckland Museum and the Auckland Domain, the oldest park of the city.
AUCKLAND TO ROTORUA VIA WAITOMO CAVES ONE-WAY PRIVATE TOUR
See the popular attraction of Waitomo Caves on this  fully quided  private Tour (8-hour tour) starting from Auckland and ending in Rotorua, in a luxury car. You will have the chance to travel via New Zealand's famous Thermal Explorer Highway touring route, going in the amazing region of Hamilton through the beautiful countryside of the Waikato and King Country.
Driving southward you will see the sacred Taupiri Mountain as well as Ngaruawahia, the site of the famous Māori meeting place and seat of New Zealand's Māori King. At Waitomo, the most popular option is the world-famous Waitomo Glow-worm Caves on a 45-minute tour, which includes a boat ride on an underground stream to view the magically dazzling glow-worms. Then continue to Rotorua with its geothermal activity and rich Māori culture. The Entry fee to Waitomo Glow-worm Caves is not included in the tour.
WAIHEKE ISLAND - FLY AND DINE (FROM ARDMORE AIRPORT)
Explore and admire Waiheke island, also known as the island of wine, on this 8-hour luxury tour. Enjoy a scenic Ferry ride from Auckland City across the Hauraki Gulf to Waiheke island. Travel to the top 3 Vineyards on the island and taste what they have to offer. Once all 3 Vineyards have been visited, the next stop is the beach for some relaxing, sightseeing and a picnic lunch.
Waiheke island is the perfect excursion from Auckland city to relax, sit back and take in the views while enjoying quality wine.
AUCKLAND TO HOBBITON MOVIE SET PRIVATE TOUR
Fully guided Private Tour in a luxury car. This popular private tour provides private transport to and from the magical 12-acre Hobbiton Movie Set at a time convenient to you and with flexibility to suit your interests. On the way to "Middle-Earth", you will be driven through prime New Zealand countryside with its rolling hills and fertile pastures.
The route takes you through a string of small, historic river towns and offers beautiful views of the beautiful farming region of the Waikato, named after the Waikato River, which is New Zealand's longest river. Arriving in Matamata, commonly referred to as Hobbiton, you will admire an idyllic landscape with sheep farms and wonderful views towards the Kaimai Ranges in the east. On arrival at the famous Hobbiton Movie Set, you will go on a 2-hour tour of the Hobbiton Movie Set. This will give you astonishing insights into how these movies were made and which parts of the movies were filmed here. You will enjoy this unique experience with inside views of the Hobbit village including 44 Hobbit Holes, Bag End, The Green Dragon Inn Pub (where you will enjoy a cold complimentary beverage) and astonishing facts about the filmmaking and spectacular landscape all around. The Entry fee for entering The Hobbiton Movie Set and the Fee for the private tour is not included in the tour.
HALF DAY KAYAK TOUR TO MOTUKOREA ISLAND
Get the essential kayaking skills, even if you have no previous experience, in this 4-hour & 30 min amazing activity! You will learn how to kayak in Browns island, named Motukorea (island of the pied oystercatcher bird) which is one of the best-preserved volcanoes in the Auckland Volcanic Field. Private boats and kayaks are the only means of access in this virgin island.
You will be given all the specialist paddling gear including buoyancy aid, spray skirt, spray jacket, thermals, and a dry bag for your camera. You should bring with you a camera, a water bottle, shorts to kayak in and/or swimsuits, sunglasses, soft shoes or sandals for hiking and a warm top. You may also wish to bring a towel. Fully qualified and experienced kayak instructors are available to help develop your technical paddling skills. Learn about kayak safety, the variety of kayaking equipment and environments, tides and weather, navigation, rescue techniques, or develop advanced skills!
PRIVATE FULL DAY PHOTO TOUR OF QUEENSTOWN - SKIPPERS - GLENORCHY – WANAKA – OTAGO
Enjoy this amazing tour, that gives you the chance to explore Queenstown with the help of a local photographer-guide. You will be provided with tutoring (if needed) in between traveling and while you are photographing. You can expect to learn about the creative composition parts, DSLR camera settings as well as postproduction (on request).
The tutoring is completely tailored to everyone's level, so each photo tour is perfectly suitable from an absolute beginner to advanced photographer and anything in between. A full day photography tour is a great, relaxed and fun experience exploring the beautiful vistas around the Southern Lakes. You can choose several different locations depending on your preferences and the time you want to spend in each location. Some possible options include Windy Point lookout up the Remarkable road, Crown Range lookout, the village of Arrowtown (the old gold mining village), Hensman Road lookout over Queenstown, Kawarau Gorge, Lake Hayes, Kelvin Heights peninsular and more. Other locations such as Wanaka & Cardrona, Glenorchy & Paradise, Skippers Canyon take an hour's drive from Queenstown. After this private tour you will surely be fully loaded with amazing images and memories.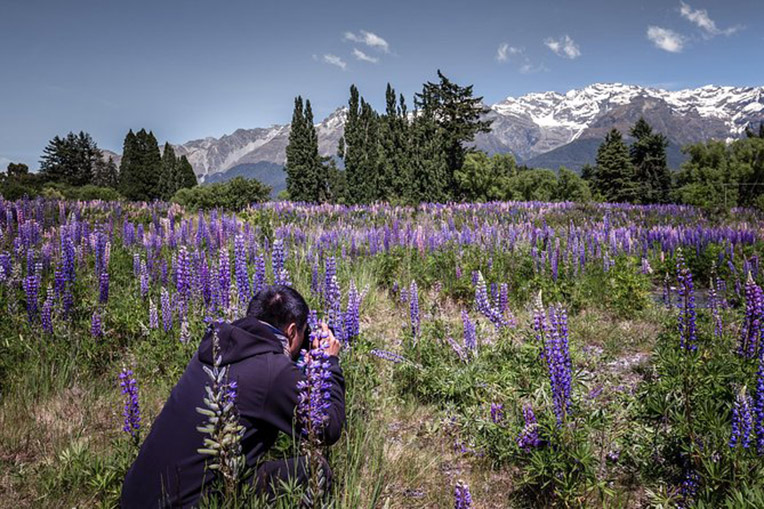 MAORI CULTURE AND WINE TOUR IN QUEENSTOWN
Experience an amazing day learning more about the Māori culture and the local wines and land of Queenstown, in this 4-hour tour. You will visit three boutique and more personalised Central Otago wineries in the Queenstown area with approximately 15-20 wine tastings and food to match. The day starts with Māori greeting the Hongi and then next stop is the first wineries along with the Māori Dance, the 'Haka' which will be performed.
MILFORD SOUND SIGHTSEEING CRUISE WITH SCENIC ROUND-TRIP FLIGHT FROM QUEENSTOWN
In this tour you will be surrounded by some of the most magnificent scenery in the world, you will travel in the length of the fiord out to Tasman Sea. You will partake in a weather check an hour before the departure flight time. Flights are subject to weather conditions, if the weather is suitable, you will be picked up from your hotel approximately 5-minutes after the call.
The flight is a 40-minute scenic flight with majestic views of the mountains, lakes and fiords of the Fiordland National Park. Upon reaching Milford Sound you will be taken to meet the boat cruise, a two-hour full-length cruise of Milford Sound. Upon completion of the cruise, you will be flown back to Queenstown on a different flight path to the way in. When you reach back in  Queenstown, a transfer will take you back to your accommodation. Light refreshments and live commentary on board are included in your tour.
Lord of the Rings Scenic Tour
If you are a fan of The Lord of The Rings movies or lover of beautiful landscapes, join this 4 hour & 15 min amazing tour to see the locations from the movies on this Middle-Earth tour from Queenstown. You'll tour the countryside by 4WD and visit the locations where the Fortress of Isengard, Forest of Lothlorien and other famous Peter Jackson scenes were filmed.
Discover and understand why New Zealand is the movie directors' choice for film locations, and most importantly enjoy personal attention from your guide on this small-group tour.
Shotover River Extreme Jet Boat Ride in Queenstown
The only way to experience Queenstown's Canyons, see their beauty and feel their power, is to come on this journey, the world's most exciting jet boat ride. A unique combination of beauty and power in 25 min, it's an experience like no other, blending pristine natural landscape with wall to wall canyon action from start to finish!
The Shotover River is proudly owned by the Māori people of this land, and the connection to the River goes back centuries.
Private Tandem Paraglide Adventure in Queenstown
Take off from the top of the Skyline Gondola and experience for 1 hour and 30 min the ultimate flight with extraordinary views of Lake Wakatipu, the mountains, forests and Queenstown itself. The flight is tailored made for you, if you are a thrill seeker and looking for a more relaxed pace then that's the thing to definitely try out.
KIWI BIRDLIFE PARK ADMISSION
New Zealand is home to an amazing and unique wildlife. You will have the chance in 2 to 3 hours, to see these animals and learn all about them right in the heart of Queenstown. There are over 20 species of native wildlife on display, including New Zealand's national icon, the kiwi and our living fossil, the tuatara. The Park entry includes a Self-Guided Audio Tour (allow 60min), Kiwi Feeding and Conservation Show.