Hurghada our Deluxe Package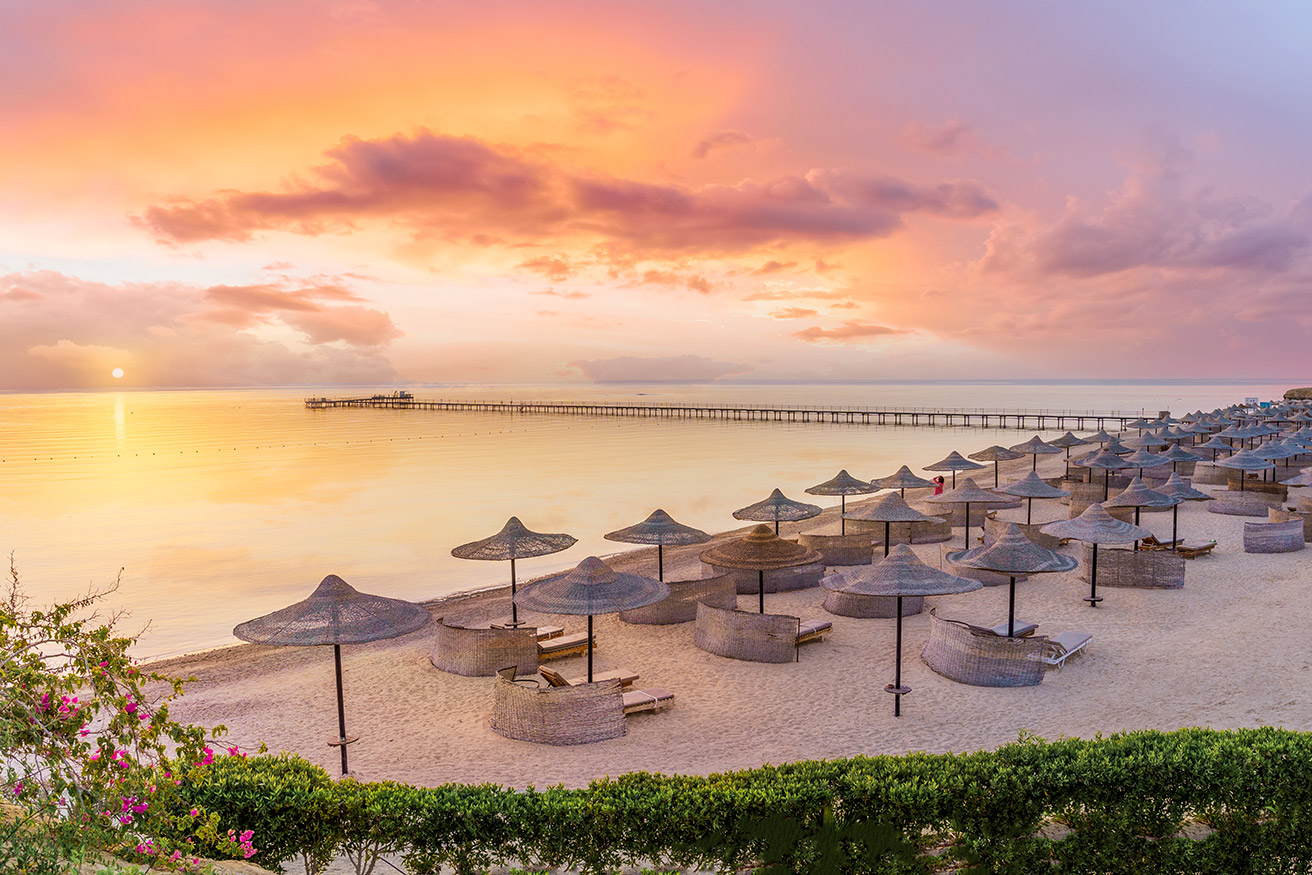 AT A GLANCE
Some of the best diving in the world
Stunning sea
Amazing location with historical interest
Quad bike safari experience
Delicious traditional Egyptian dishes
High-quality luxury hotel resorts
ΑΤ LENGTH
Hurghada is Egypt's oldest and most famous resort which stretches 40km along Egypt's Red Sea coast. It is lined with resort hotels where you can enjoy snorkelling and a big variety of water sports. There are many restaurants, bars and nightclubs that offer a unique experience with the drinks and dishes. Meanwhile Cairo, Egypt's capital, presents a rich cultural inheritance, with the pyramids, the National Museum and traditional activities, such as the Tanoura dance show. The best period to visit both locations is between April-May and September-October. On the other hand, visiting on the summer months (June, July & August) wouldn't be a good idea because of the high temperatures.
Read more...
PRICING
From € 1,630, per person in double occupancy room - Duration 8 days / 7 nights
Seasonality March - April, September - October, price is indicated for April.
What's included:
Flights to / from Hurghada and to / from Cairo with Egypt Air in Economy class including one handbag 8kg and 1 checked bag up to 23kg per person
5 nights accommodation in 5* Hotel in Hurghada hotel and 2 nights accommodation in 5* Hotel in Cairo
Private transfers to / from  hotels
Red Sea Diving Trip from Hurghada

Restaurant & Experience bookings by your Private Travel Concierge
Read more
DAILY ITINERARY
Day 1

ATHENS – CAIRO - HURGHADA

Departure from Athens at 17:00.Arrival in Hurghada at 20:00,through Cairo(1 stop) and a private transfer will take you to the hotel(approx. 30 minutes). Settle in your room and after that you could dine at hotel's restaurant.

Day 2

RED SEA DIVING TRIP

Breakfast and get ready for your tour! Pick-up from your hotel at 08:30 for a seven hour round trip, with lunch which is included in your package. The waters of the Red Sea are the perfect point of departure for exploration. Today's expedition combines adventure, physical activity, and serenity gliding through the water. After a challenging day, Moby Dick Restaurant would be a nice choice so as you can refill your batteries.

Day 3

QUAD BIKE SAFARI IN HURGHADA

Get prepared for an amazing day with quad bikes! We suggest you to  experience a safari tour in Hurghada desert. Pick-up times between 12:00-14:00 from the hotel, for a 5-hour tour. Enjoy a thrilling ride through the sand dunes and feel the adrenaline rush through your body. In the evening, you can have a wonderful dinner at one of the restaurants of your hotel.

Day 4

FREE DAY AT THE BEACH

Perfect time to relax and enjoy the amazing beach. Discover the ocean, feel the sun and find the best cocktail of your choice, along with high-quality lunch options of your hotel. In the afternoon, you could try some sushi at Syake Sushi Hurghada and feel the vibe of the city.

Day 5

HORSERIDING

Prepare yourselves for an awesome day along with horses. After breakfast, you could follow the 4-hour horse riding tour in the desert and the sea. Pick-up spot is located in the city, and from there you can reach the beauties of the near area, while riding on a horse. Session starts in the morning and finishes in the afternoon with sunset photos. You could finish your day by dining in one of your hotel's signature restaurants.

Day 6

HURGHADA-CAIRO-NILE CRUISE

Departure from your hotel with private transfer to Hurghada airport. Take off at 12:40 and arrive at Cairo airport  at 13:45. Private transfer to your hotel. Settle in your room and have something to eat prior your evening tour. At 18:30, we recommend you to go to Nile dinner cruise with belly dancing and Tanoura show. Pick-up from your hotel. The tour lasts 3 hours.

Day 7

GIZA PYRAMIDS-NATIONAL MUSEUM

Get ready for a travel back in time. You can relive the period of the Pharaohs, admire the Giza pyramids and the National Museum in an 8-hour tour, with lunch included. The tour is contained in your package. You could spend your last night by dining in one of your hotel's unique restaurants.

Day 8

CAIRO – ATHENS

Departure from your hotel with private transfer to Cairo Airport(approx. 45min.). Flight from Cairo at 10:30. Arrival to Athens at 13:35 with the best of memories from Egypt.
Read more