Chania, Crete island Luxury Package
For the beach Lovers, a must-see list of Chania beaches
Golden beach or Chrissi Akti gets its name because of the incredible colour of the sand on this beautiful beach. It is one of the closest beaches to the town of Chania offering plenty of accommodations like sunbeds and umbrellas. Golden beach consists in three soft sandy beaches with clear and shallow waters.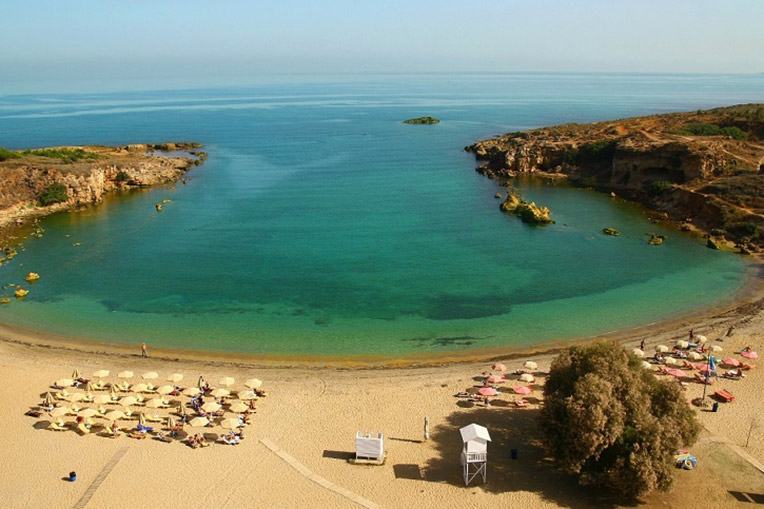 Falassarna Beach
Falassarna beach is one of the best beaches of Crete located in a beautiful fertile plane near the village of Platanos and 58 km west of Chania town. It consists of pure and soft golden sand and incredible clean and turquoise waters.
A few umbrellas and sun beds can be found along the beach. Falassarna is truly an idyllic and quiet place and has been declared as one of the cleanest beaches in Greece. During windy days it is better to avoid swimming. From the beach the view is astonishing, and the sunsets are magical. A few local taverns with great food can be found in the surrounding area.
Georgioupolis Beach
Georgioupolis beach is located 37 km southeast of Chania town, on the Old National Motorway to Rethymno. It is a long, sandy beach that stretches for over 9 kilometres. It is a well-organized beach, where, apart from swimming and sunbathing, you can practise sea sports, enjoy a refreshment drink at the beach bars or have a scrumptious meal in the seaside fish taverns.
The traditional fishing harbour of Georgioupolis attracts many tourists. Have also in mind that the nearby Kournas lake would be a nice excursion to go on foot or by bicycle.
Elafonisi Beach
Elafonisi beach (or Elafonissos), which means the Island of Deer in Greek language, is a small islet connected to the rest of Crete by a shallow reef that can be crossed when the sea is calm. This islet lies 82 km northwest of Chania town and can be reached by boat from Paleochora or by car from the village of Vathi, until a point and then cross the reef.
It is like paradise on earth and has a wonderful beach with pink coral sand and crystalline waters. It is considered as one of the most beautiful beaches in the country. This magical place was deserted for a long time but now it has become a popular sight and can get crowded during the high summer season. It has been listed as a special environmental region and it is protected by an environmental program under the EU.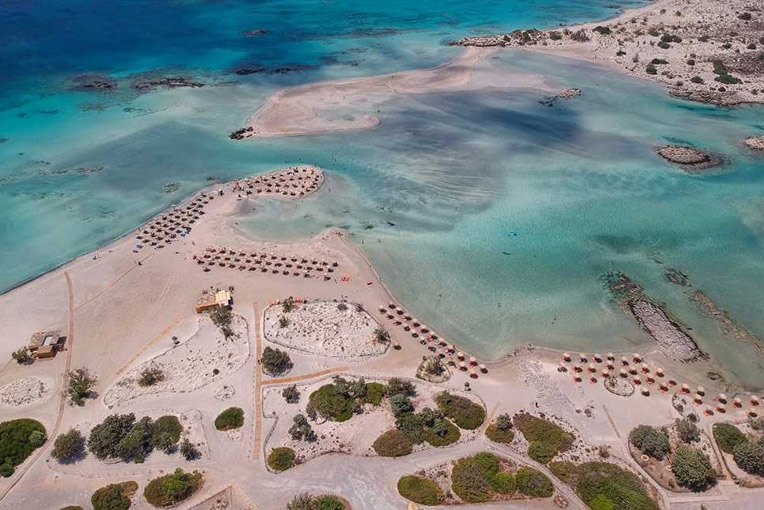 Agia Marina Beach
Agia Marina beach is 3 km to the west of Chania and is one of the most important tourist resorts in Chania. It is a long and sandy beach with plenty of facilities including nice beach bars, small taverns and water-sports.
There are also organized camping sites all along the coastline to the west, till Kissamos Town. Agia Marina counts on many close bars that stay open all night. There are also other bars in the area, the closest ones being in Chania Town or Platanias. The beach is located 9 km west of Chania Town.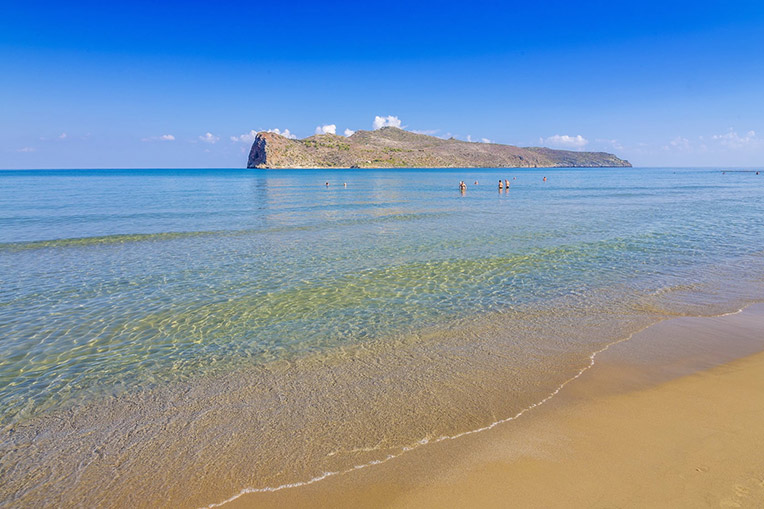 Seitan Limania Beach
Seitan Limania beach (Satan's harbours) is a tiny beach, less than 20m, in a narrow sea inlet on the East side of the Akrotiri peninsula. Is approximately 24 km from Chania. Its completely sheltered by the winds. There are no sunbeds and umbrellas. This stunningly beautiful place had a dirt road access built around 2010 which meant that more than a handful of locals started coming to it.
After its discovery on the internet it rapidly gained in popularity, the road was asphalted and proper crowds starting descending on it. There is a car parking above the beach. From the area where you can park your car you need to walk down a narrow path that is a little exposed in places so proper footwear is advisable. Unfortunately, the beach is so small that it will very rapidly feel too crowded. There is a snack bar along the road before you drop down to Seitan Limania. It can deliver to the beach.
Kato Stalos Beach
Kato Stalos Beach is situated right above village of Stalos, 7 km west of Chania Town. It is a very long beach with nice soft sand and crystalline waters. Stalos suits for all tastes. Visitors in Kato Stalos beach can enjoy its picturesque and relaxed environment during the day as well as the nightlife of the close villages, especially Platanias and Agia Marina.
Private Boat Trip Balos Beach – Gramvousa Beach
Discover Crete by water with this private boat trip to Balos Lagoon. Climb aboard a boat for a scenic excursion in the Mediterranean Sea to Gramvousa island in the amazing beach of the island. Go snorkelling off the boat with provided equipment or swim and sunbathe. You will have the chance to explore Balos Lagoon and its blue waters!
Then you will see the island of Gramvousa with the crystal-clear blue waters and if you want you can hike to the fortress with the incredible view. The duration of the trip is approximately 3 hours.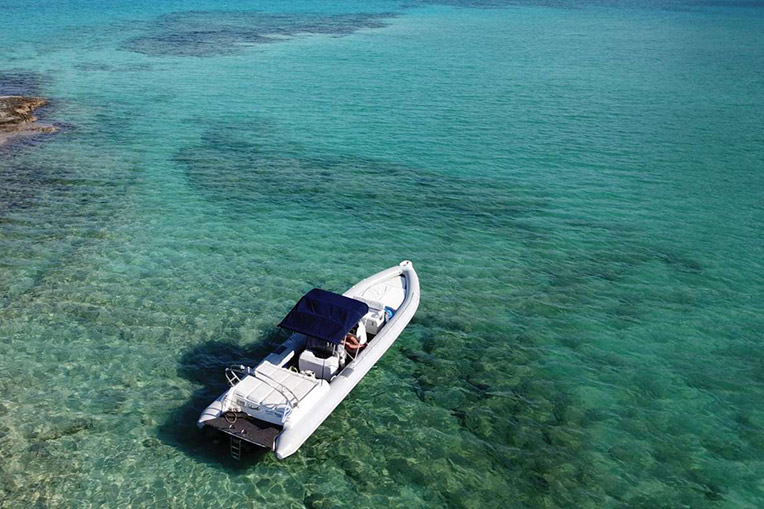 Private tour from Chania to Knossos & Authentic Crete with Local Experiences
A priceless private day tour to immerse into the Cretan culture, history, stunning escapes, gastronomy, wines, and the authentic Cretan local lifestyle. Within this chauffeur-driven private tour, you will visit the world-famous Palace of Knossos. You will also enjoy personal pick-up and drop-off with a premium vehicle at your full-day disposal, like a true VIP.
First stop of the itinerary will be at the Palace of Knossos where your archaeology specialized private guide will guide you at the majestic Minoan monument by exploring the depths of the oldest civilization in Europe. You will find inspiration from the legends of King Minos and the Minotaur, the palatial labyrinth, and the iconic artwork.
Second stop at the authentic Cretan village of Skalani which is famously rich for its local olive and vineyard products as well as the off-the-beaten-path eateries and traditional local delicacies. After you will visit the local award-winning winery of Boutari. At this Cretan winery, which dates back to 1879, your local insider guide will introduce you with the organic production of high-quality Cretan wines. You will experience wine-tasting, perfectly paired with local delicacies such as a handpicked selection of charcuterie and cheese.
Third stop at the authentic West Crete by visiting the Venetian village of Melidoni. You will explore the Melidoni Cave a place of worship of the Minoan worshipers of the mythical bronze giant of Crete, Talos.
Fourth stop will be for a Cretan lunch in the village of Argyroupoli with its fresh-water springs, breezy waterfalls, old mills, and the ancient lush green landscape. This itinerary stop is dedicated to your authentic gastronomic experience. You will taste delicious Cretan recipes with deep roots and experience bottomless Cretan hospitality and of course you will try Cretan Raki. In addition, you will have the opportunity to explore the ancient city of Lappa, on which the village of Argyroupoli was built, where ancient baths and basilicas with mosaics are still preserved.
Private Hiking Tour of Imbros Gorge
In this Private Hiking Tour, you will be able to admire the island's second most famous gorge, Imbros Gorge. Your escort will pick you up from your hotel's lobby. After approximately 90 minutes, you will arrive in the village of Impros. Then, you will stop for coffee or local breakfast (optional) before you start the hike.
As soon as you're ready, you enter the gorge with your licensed trekking guide, who will inform you about the native plants and give you more information about the area and the island's flora & fauna. The first 30 minutes of the hike is downhill through a beautiful natural environment. The gorge is becoming narrower as you keep walking. After around 75 minutes, you will be at the thinnest and most imposing spot of it. The walls of the gorge are less than 2 metres apart and tower 300 metres above.
Imbros opens onto the sea at village of Kommitades. There you can relax and enjoy a drink at the local coffee shops & tavernas before leaving the village for the capital of Sfakia province, Hora Sfakion. There we are suggesting you swim in the turquoise crystal water of the Libyan Sea. Finally, you can taste the local delicacies and lunch in one of the traditional Cretan restaurants (optional). You will be dropped off at your hotel early in the afternoon.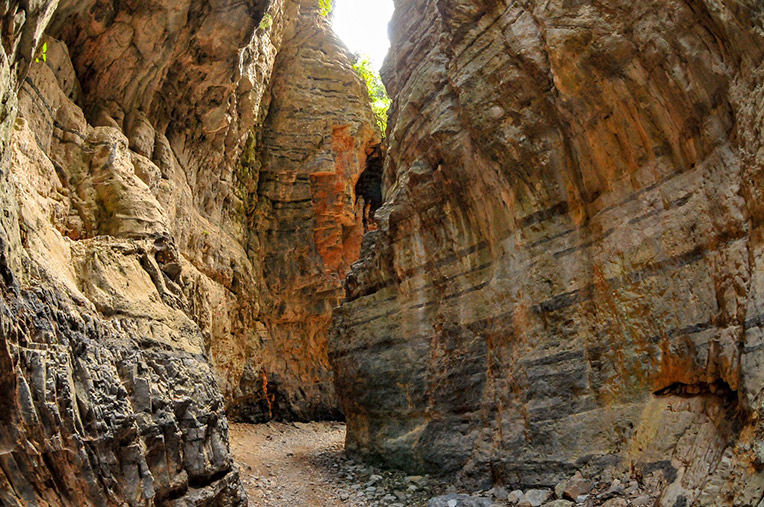 Private Paragliding in Crete with a Professional Instructor
Get the most out of your stay in Crete with a 15 minute Paragliding & Patrike flight. Take your holidays to the next level and fly over the island with a professional instructor. Take in breath-taking views from the coastline to the mountains. Savor sweeping views over Chania's mountains and coast. Comfortable trike style body lets you sit in a relaxed position and the professional instructor keeps you safe and secure at all times.