Aegina – Poros – Hydra Barefoot Package
For the beach Lovers, a must seen list of Aegina beaches
Klima beach is a beautiful beach with sand and pebbles and clear turquoise waters, so you can enjoy snorkeling. To get there, you take the road to Perdika and then left at the intersection before the village of Perdika towards Sfentouri village. After a few km you will arrive in this magical beach, also known as Kleidi beach. It  is considered one of the hidden secrets of Aegina and belongs in the top 5 beaches on the island. There is a beach bar where you can enjoy amazing snacks, food and tasty summer cocktails. If you choose to stay until sunset time, you will experience the sea and sky being painted in the warmest colours !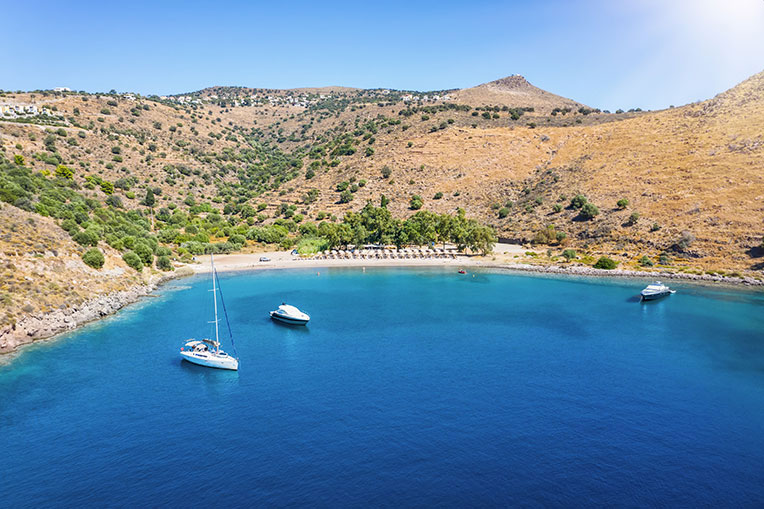 Aeginitissa beach
This amazing beach is in the beautiful bay of Aeginitissa with its huge Eucalyptus trees. The seawater is crystal clear and turquoise blue. You can enjoy fantastic sunsets in this beach. The Fyki Beach Restaurant is in this beach so you can enjoy amazing meals while seeing the magical scenery.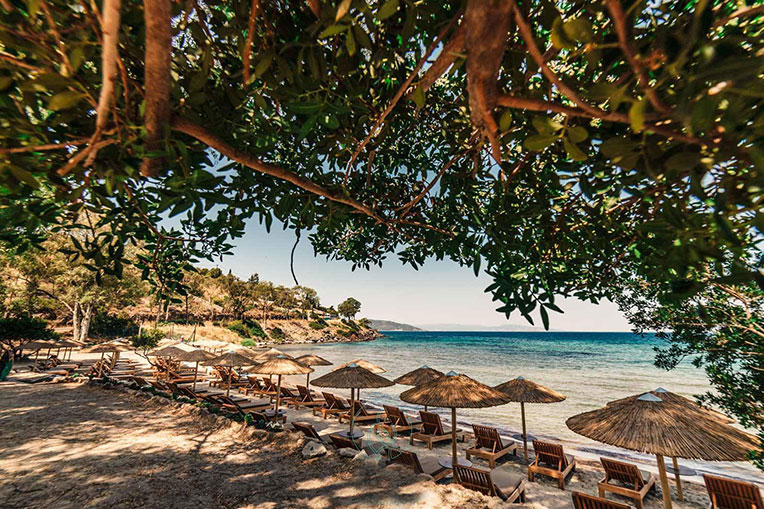 Boat Trip At Moni Island
An amazing boat trip, visiting the Moni Island and swimming in the most beautiful blue waters ! Including multiple swim stops. Moni island is a wild animal refuge and has freely roaming deer kri-kri goats and peacocks who often make their way down to the beach . This island is covered with pine and has a tiny beach. It is extremely beautiful and un-spoilt. Except swimming you can snorkel in these crystal waters and enjoy the amazing scenery even more ! The duration of the trip depends on how long you want to spend on this paradise. There are several boat schedules go back and forth to Moni island, so you can spend as much time as you please there. There is a beach-bar as well with great snacks and cold drinks including cocktails so just relax and enjoy the day !
Tour At The Ancient Temple Of Apollo and Temple of Athina Aphaia
Aegina has the Ancient Temple of Apollo and Temple of Athina Aphaia which are two of the major attractions that one can see when visiting the island. The Temple of Apollo is at the top of the hill of Kolona area and it is 10 min walk from the port of the island. The Temple of Athina Aphaia is built on a hill, at 160m, it is surrounded by pine trees and it stands out for its unique energy. Since prehistoric times (1300 B.C.) both have been magnificent places of worship! The Temple of Athina Aphaia is really close to the port of Aegina by car.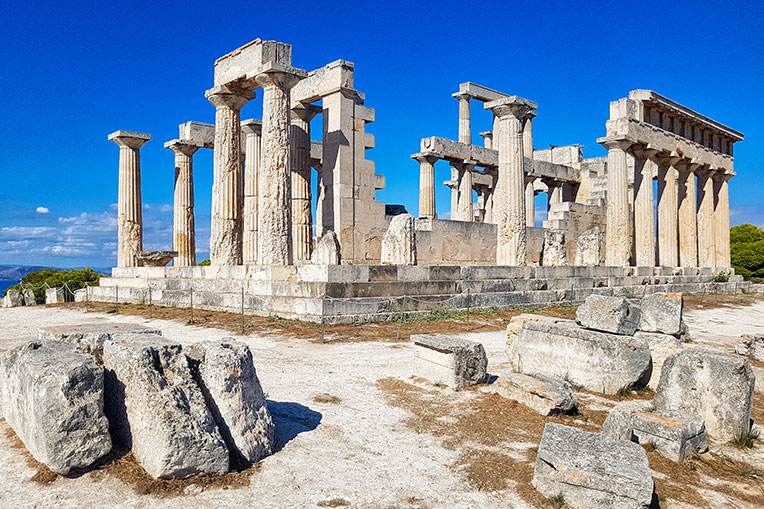 For the beach Lovers, a must seen list of Poros beaches
Russian Bay Beach is a beautiful and picturesque bay that has golden sand and clear waters and is incredibly peaceful, protected from the winds. The beach lies 5 km from Poros Town and is 1,5 km past Neorio Beach. Russian Bay Beach is reputedly the best beach of the island. It is a historical site of high importance, as it is the place where the first Russian ships docked in order to help Greek people during the Greek Revolution against the Turks. There is a beach bar so you can have snacks and great cocktails. Is possible to play beach volley, rackets or frisbee if you feel like it.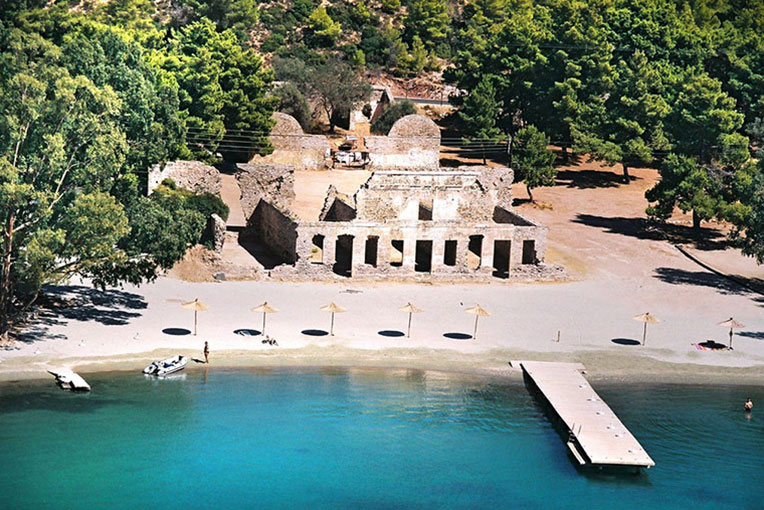 Askeli beach
Is a beautiful long and large beach with golden sand and deep clear waters. It is on one side of the village of Askeli (a few km northeast of Poros Town). If you are a beach volley fun, then you are in the right place. There is a beach-volley court on the beach. Bars, hotels, shops and taverns are available in the village of Askeli, near the beach. Askeli Beach is reachable by a local bus departing from Poros Town.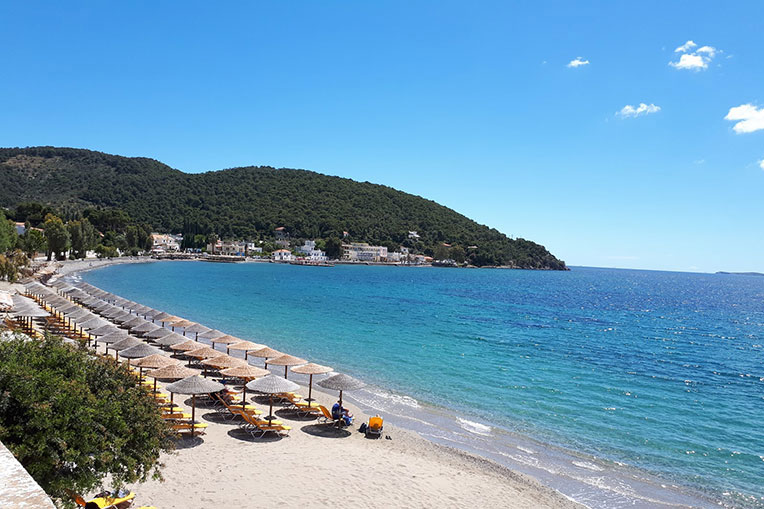 Megalo Neorio Beach
It is a beach with fine golden sand and crystal-clear waters. The large beach of Megalo (Large) Neorio is a few km northwest of Neorio Beach. A water sports centre is located on the beach and has all the needed facilities for every water sport. Hotels and taverns are also available in the area. Megalo Neorio Beach can be reached through a footpath from Neorio Beach. There is also the Neorio Beach Bar on the beach, so good cocktails and snacks are available.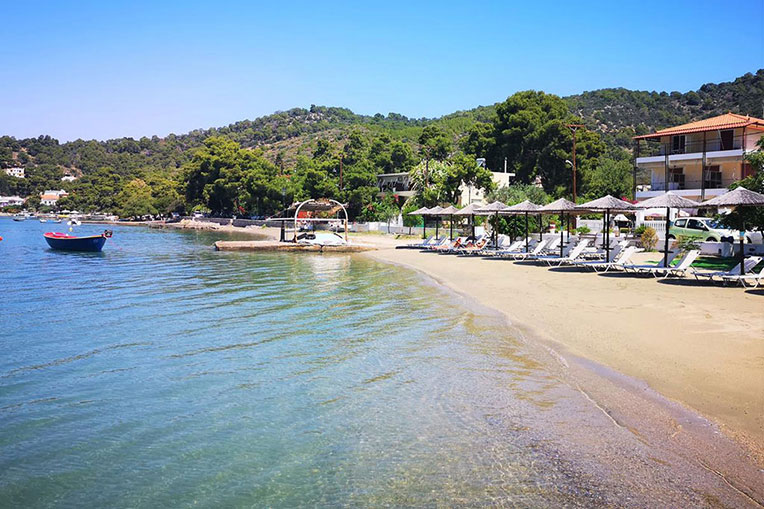 Tour at Holy Monastery Of Zoodochos Pigi
The Holy Monastery of Zoodochos Pigi is a bit further east from Askeli Beach. It was founded in 1720 after the Metropolitan of Athens, Iakovos II drank from a nearby spring, which supposedly cured his lithiasis. The Monastery is on a pine-clad slope overlooking the water and its main church (Katholikon) is rich with art from the 17th and 18th centuries. The iconostasis was crafted in Central Anatolia and is composed of gilded lime wood, and to its right is the Panagia of the Zoodochos Pigi, an icon of the Madonna painted around 1650. On the western wall of the church is a magnificent Christ Pantocrator, composed around 1780. Before you see all this, flanking the vestibule are the tombs of Nikolis Apostolis and Manolis Tombazis, two decorated naval commanders from the Greek War of Independence (1821-1829).
Archaeological Museum of Poros
In Poros Town is the Archaeological Museum built on a plot donated by the wealthy Koryzis family. The museum has artefacts that were mainly discovered on Poros at the Sanctuary of Poseidon, and across the channel at the Sanctuary Aphrodite Akraia in Troizena. The finds that you will see are dated from the Mycenaean Period, the Bronze Age, all the way up to Roman times.
Mycenaean artefacts include figurines and pottery from tombs in Galatas, and a fantastic clay figurine of a horseman, dating to 1300 BC and unearthed in Methana.
But most interesting of all are the votive bronze vessels and Ionic column capitals from the Sanctuary of Poseidon, which you can visit in the north of the island.
For the beach Lovers, a must seen list of Hydra beaches
Spilia (Cave) is a rocky area nearby the main harbour where the grey crags have been blasted and laid with cement that forms sun decks. The water is clear and of a nice deep blue colour. It is not a beach, but rocks that people dive from. In Spilia Beach Bar you can enjoy good music, snacks, cold beer & amazing cocktails.
Kaminia beach
Kaminia or Baby beach, as the locals call it, is only 1km west of Hydra Town and near the village of Vlichos. Kaminia's shallow waters make this pebbled beach ideal for families and children. It is located within a small fishing village and has an array of delicious restaurants, cafes, and taverns lining the coast, making this beach an idyllic one to visit.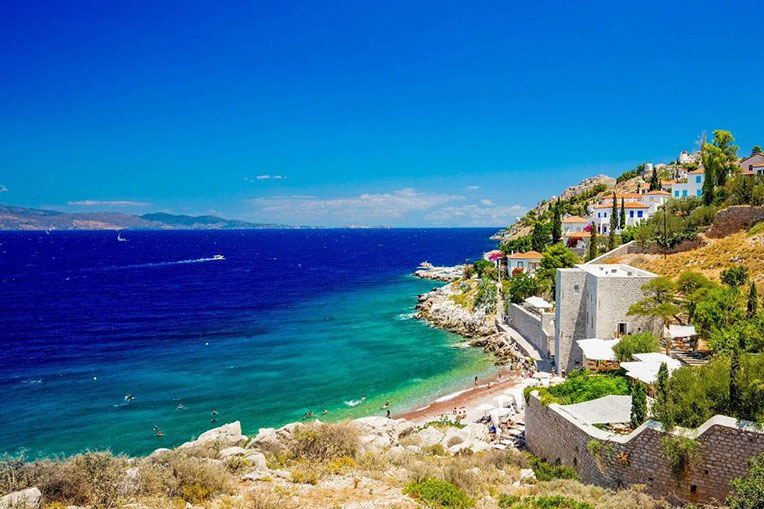 Vlichos beach
This wonderful beach is situated in the little resort of the same name. It is a small pebble beach with crystal-clear waters. A few taverns are available near the beach. Vlichos beach can be reached by a 40 minutes walk from the harbour or by a taxi-boat. If you are seeking an undeveloped, quiet beach then this one is ideal. It is a trek to get to from most of the island but is worth the effort.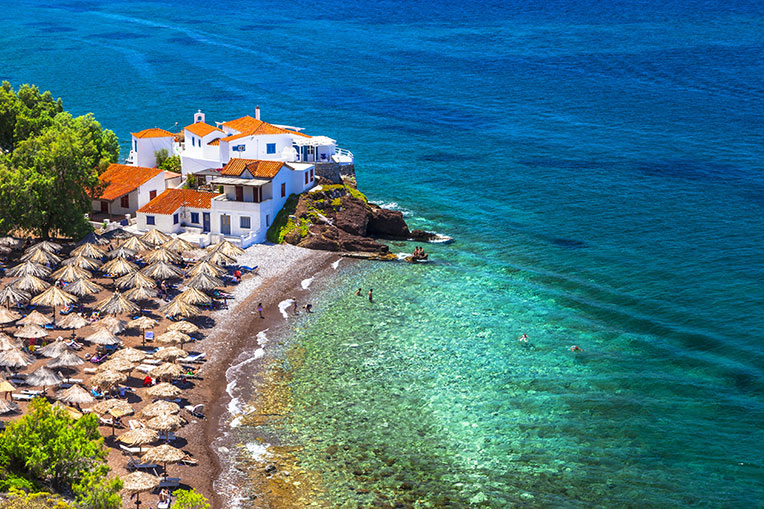 Mule Riding Tour In The Town Of Hydra
This Mule Riding Experience is s a great way to explore Hydra's town on a mule. You will have the chance to understand why mules are so special and lovable for the island of Hydra. The infrastructure and economy of Hydra Island Greece depends almost entirely on Equine Power. You can choose among two different types of mule riding, one lasts for 15min and the other one for 25min.
Historical Archive Museum Of Hydra
The Historical Archive Museum is a great place to visit in order to learn about Hydra's period of political dominance during the last couple of centuries. Is a must visit during any trip to the island. Regularly throughout the summer, the exhibition halls have art shows that are always preceded by opening parties. On the roof terrace is a divine location to hold an early evening, sunset, civil wedding ceremony at, with or without a grand piano accompaniment! After visiting this museum you will be able to learn more about this wonderful  Greek island.